Learn More About Our Team
at Marshall Exteriors
---
Take the first step towards an exceptional home transformation by contacting Marshall Exteriors experts now, and elevate your living space to new heights. Together, we'll help create a stunning, functional, and valuable living environment you'll be proud to call home.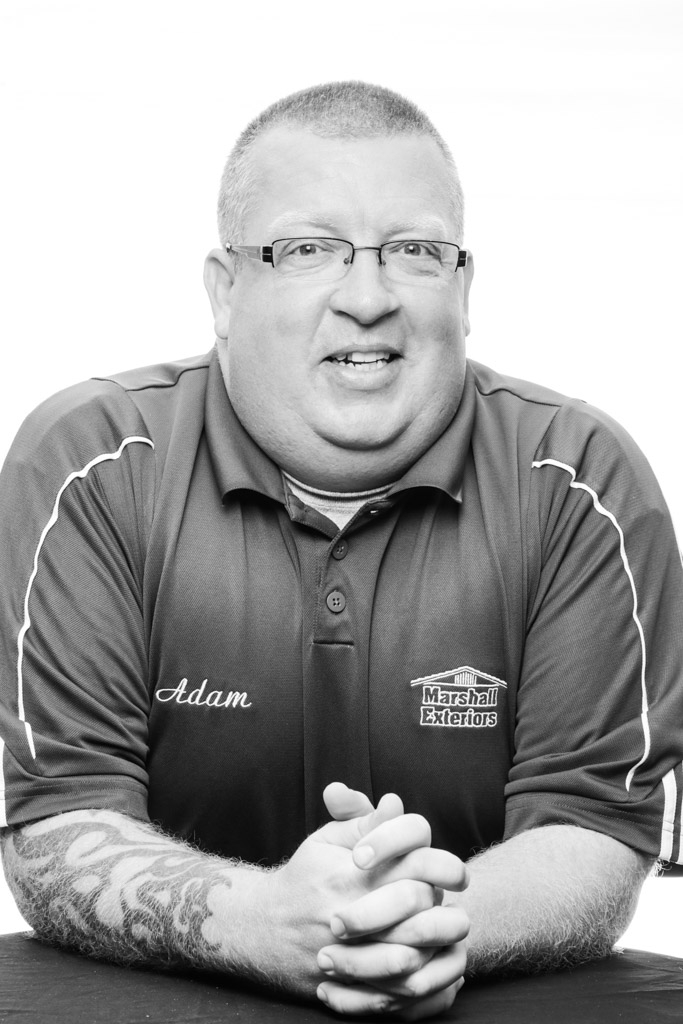 Read Bio
Adam has over 30 years of extensive experience in home improvements and renovations. Adam started as a laborer at eleven, cleaning up roofing debris from the ground. Later in his teens, he helped tear off and eventually learned to install various roof systems. In his twenties, he worked for a custom builder, learning windows, doors, siding, and other various home trades. Adam founded Marshall Exteriors in 2000 at age twenty-six with a hammer and "2 bloody thumbs". He grew the company from a single-car garage into a company with multiple facilities with over 100 installers on staff. Adam also owns our sister company, Finger Lakes Construction, a large Post Frame building company (pole barns). Adam occasionally still puts on a tool belt to help in a pinch. Adam now primarily spends his working hours doing what he enjoys the most, meeting with homeowners and helping them create a vision for their home and bringing it to completion.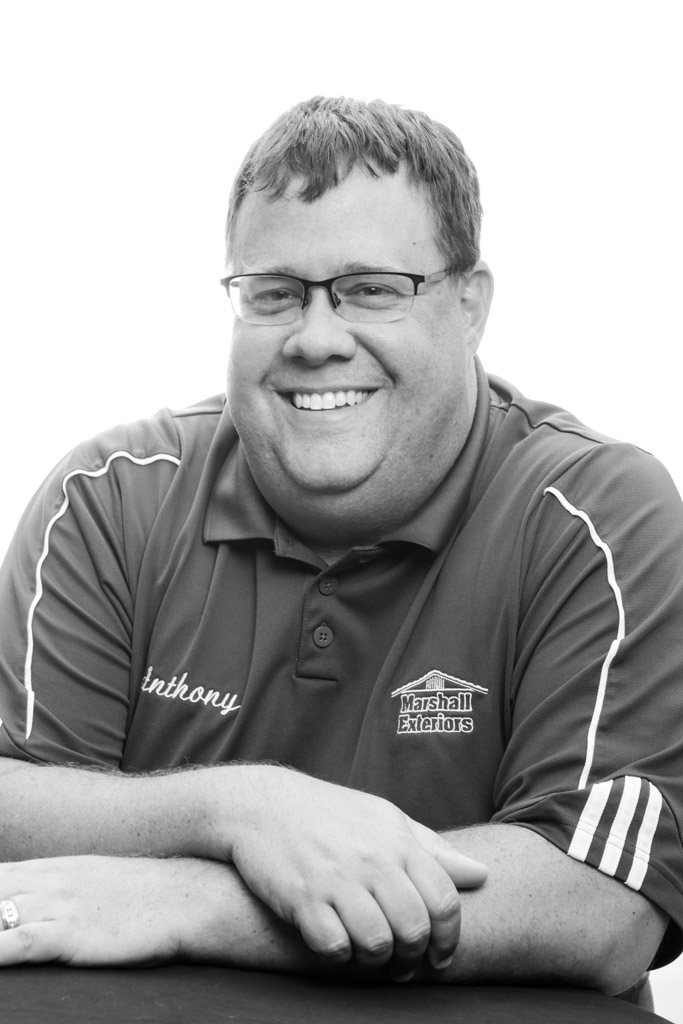 Read Bio
Anthony is a lifelong resident of Newark. He has been involved in business and sales for his entire adult life. Anthony has taken extensive training on almost all home improvement techniques, methods, and procedures. At ten, Anthony began washing dishes at Penelope's restaurant. By age eight-teen, he had learned many skills to run a successful business. For the next ten years, he managed multiple successful restaurants and bars. At thirty, his priorities shifted, and he settled into a more traditional career. He started working at Refractron Technologies Corporation, and over the course of ten-plus years, he worked in Engineering, Quality, Sales, and Operations.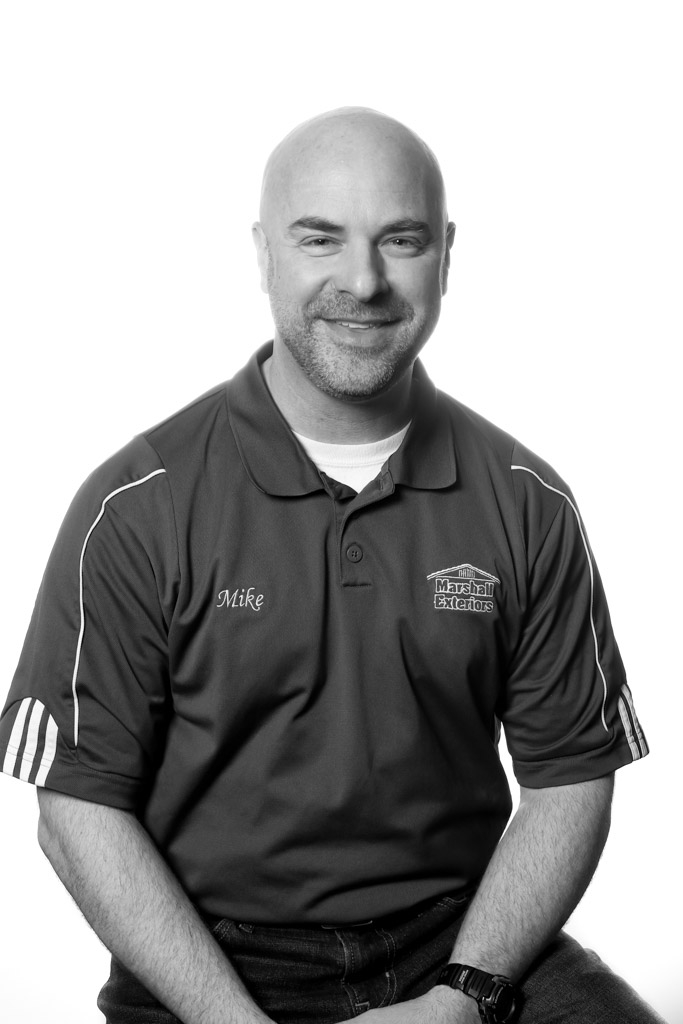 President of Sales
Mike Ciavarri
Read Bio
Mike has been with Marshall Exteriors since 2018 and serves the company as the President of Sales. Before his time here, he spent over a decade in the real estate industry. This combined experience gives him a unique perspective on developing a renovation plan with each homeowner that fits their current needs and can provide insight into the benefits of improvements they are making to the value of their home. Meeting with customers and helping develop a plan to realize a homeowner's vision is his mission with every client.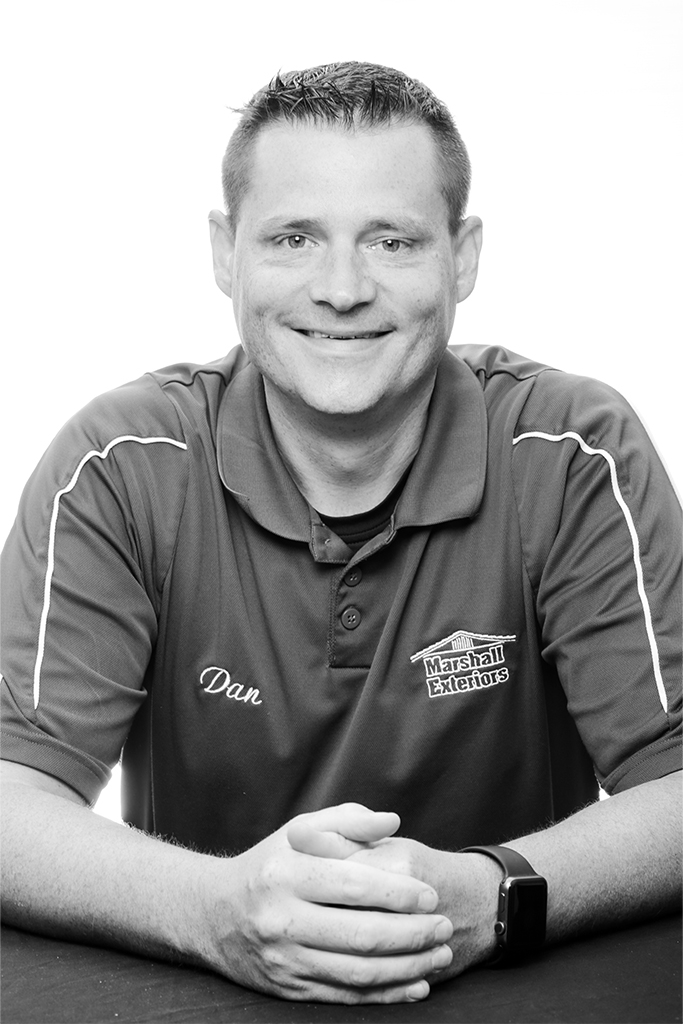 Vice President of Operations
Daniel Herd
Read Bio
Dan is a lifelong resident of Newark, New York. He previously worked in logistics as an account manager for over twelve years. He brought his logistics and project management skills to Marshall Exteriors when he joined the company in 2016. He began as Production Manager but now holds the title of Vice President of Operations. Dan works with his teams to ensure all projects are scheduled and executed to our immense company standards while ensuring the most positive customer experience possible. Through proper planning and process management, Dan ensures that the Project Managers and their teams are set up for success. Dan also oversees a large portion of purchasing and vendor relations.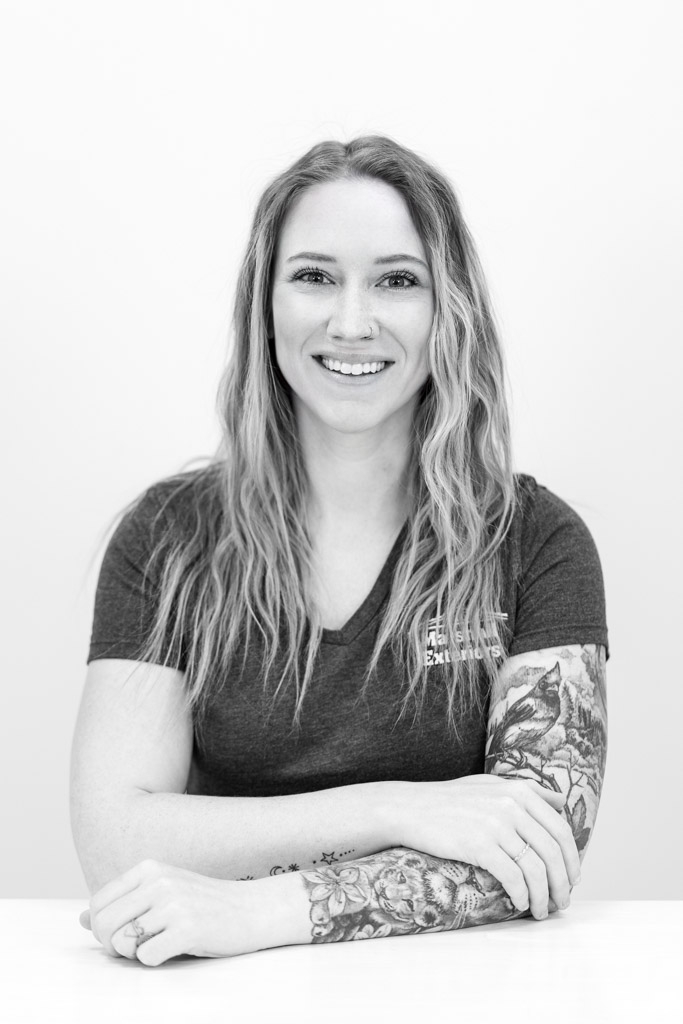 Human Resources Manager
Alexys Hassett
Read Bio
Alexys attended SUNY Geneseo, graduating with her childhood and special education bachelor's degree. After school, she worked in retail, quickly advancing to Store Manager. She later worked in management for a construction company. Alexys came to Marshall Exteriors in 2021, from the beginning, she knew she had found the right fit. She places a lot of value on the positive environment she works in and the amazing people she works with.
Accounting Manager
Jaimie Rugenstein
Read Bio
Jaimie attended SUNY Brockport, where she obtained her bachelor's degree in accounting. She then began working in her field, starting as a bank teller, graduating as a member service representative, and quickly climbing the ranks to Accounting Manager throughout several start-up companies. In 2021 Jaimie joined the Marshall Exteriors team.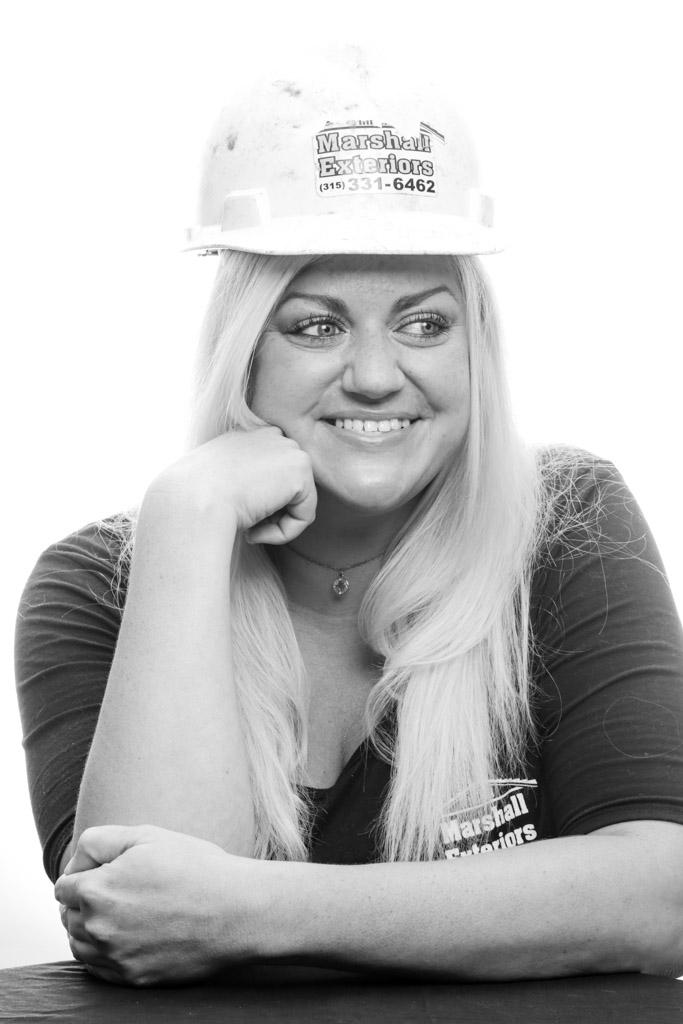 Production Coordinator
Rebecca Marshall
Read Bio
Rebecca has always called Newark, New York, her home. Before joining the team at Marshall Exteriors in 2012, Rebecca worked as Office Manager in the Administration Department for a heavy equipment dealership.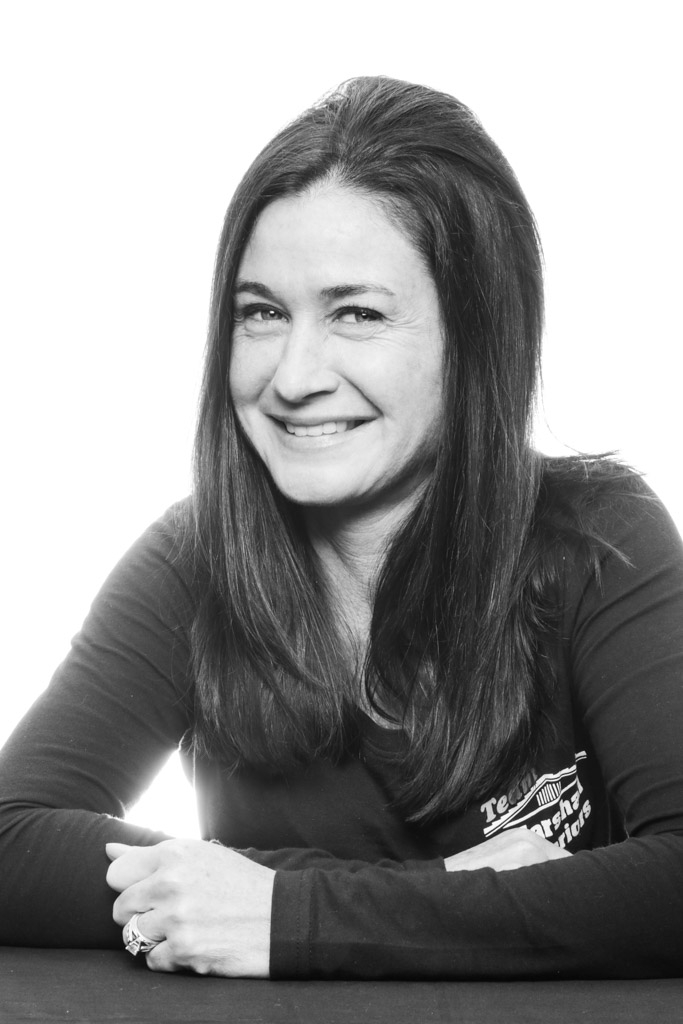 Appointment Center Manager
Kim Peters
Read Bio
Kim relocated from Union Springs to Newark several years ago. Kim leads the appointment center, so customers will typically speak/meet with her first. Before coming to Marshall Exteriors, Kim worked in retail for many years, moving her way up to District Manager.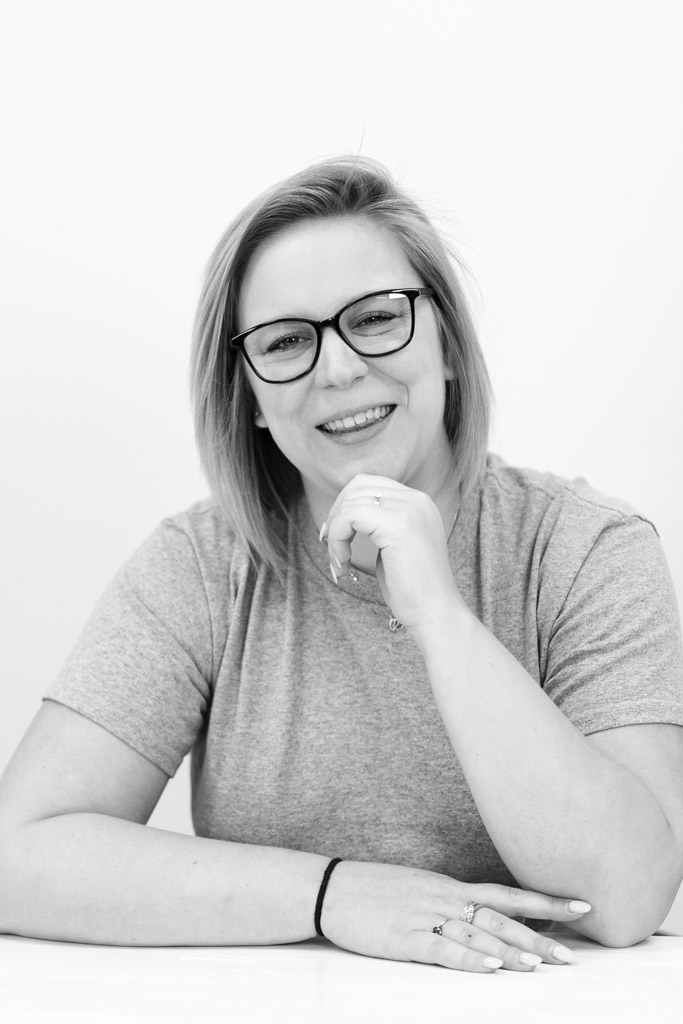 Customer Experience Representative
Jessica Lehr
Read Bio
Before starting with Marshall Exteriors in 2022, Jessica worked in childcare for ten-plus years. She worked with children aged six weeks to five years. When Jessica is not assisting customers at Marshall Exteriors, she is helping to manage her fiancé's landscaping business. The two are also expecting their first child! Jessica enjoys baking, porch sitting, and road trips in her free time from both jobs.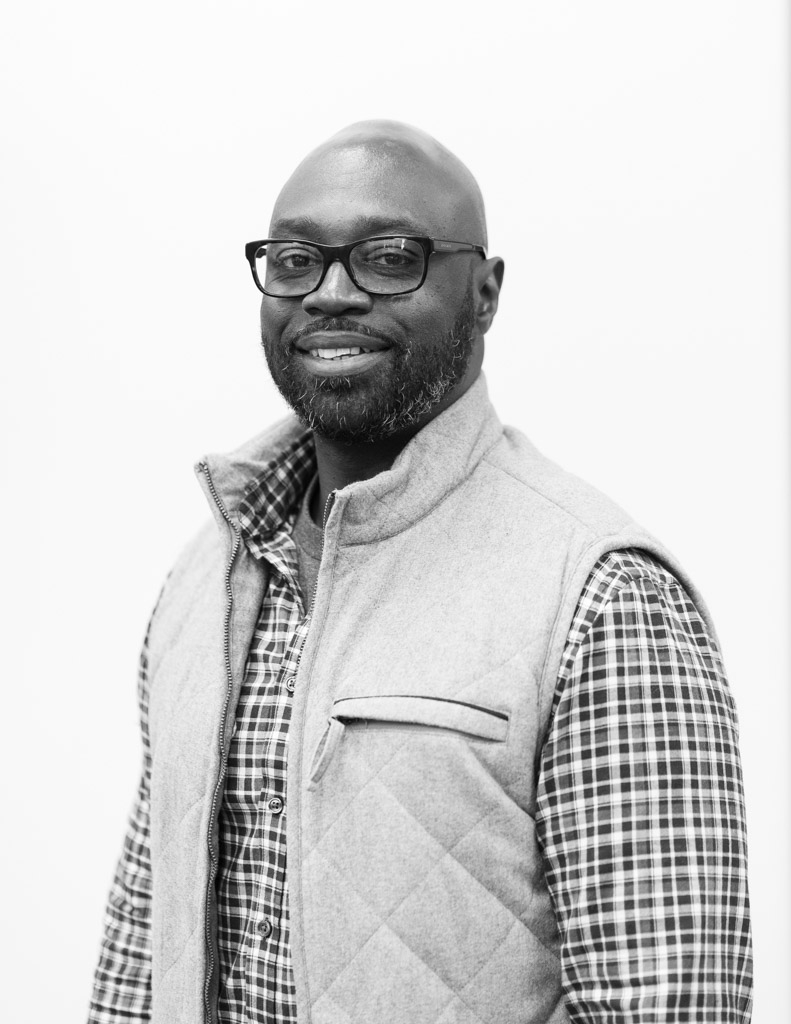 Project Estimator
Quincy Mathis
Read Bio
Quincy is an experienced sales professional with a focus on customer service. He believes in listening to his customers and taking the time to understand their goals and challenges. He has over twenty years of experience and a proven track record of delivering personalized solutions to meet customers' needs. Quincy brought that experience and knowledge to Marshall Exteriors in 2023.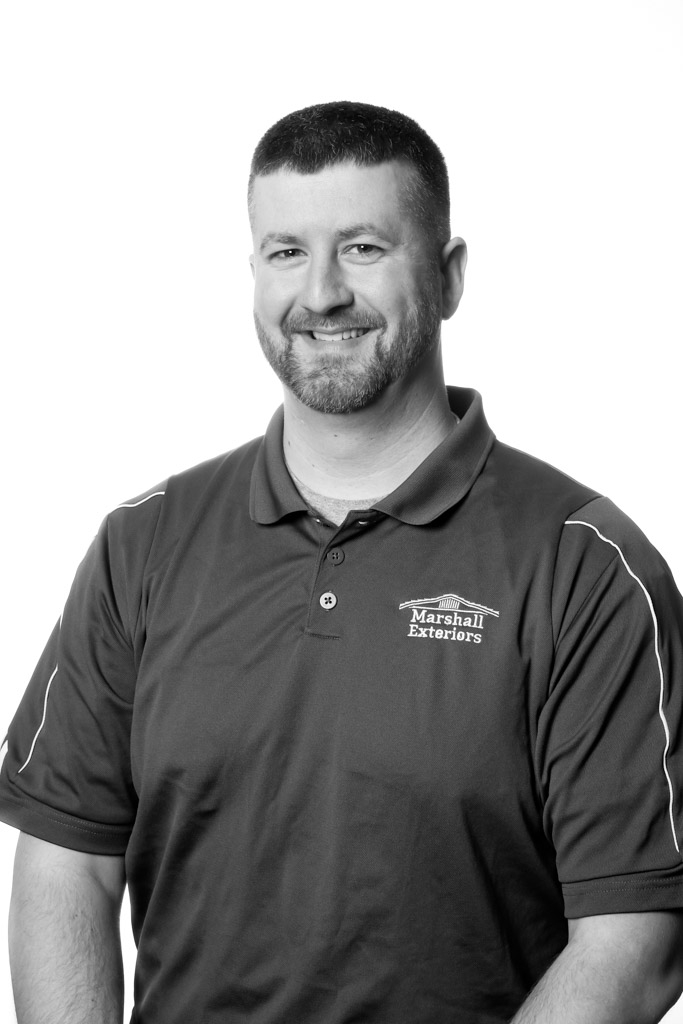 Project Estimator
Travis Skinner
Read Bio
Travis has been in the construction / remodeling industry for several years now. He has used different design programs to help customers visualize their project's appearance when completed. Travis started his career working for HEP – North Main Lumber. During his twelve years with them, he had worked his way up from yard attendant to Store Manager. He then joined the Marshall Exteriors team in 2019, where he utilizes his extensive knowledge of building materials and business practices. Travis is excited to use his creativity to help customers' visions come to life.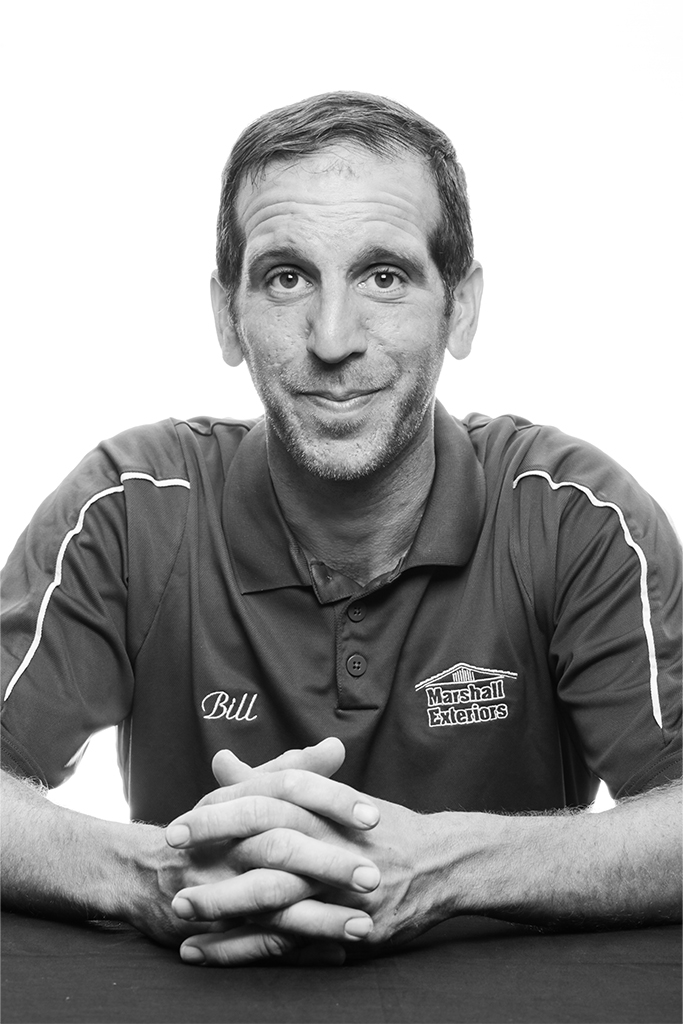 Project Manager
Bill Evans
Read Bio
Bill Evans joined the Marshall Exteriors team in 2017. He previously worked as the Vice President of a local contracting company, overseeing all the job phases. At Marshall Exteriors, he spends his days ensuring that your projects are run efficiently, meets all the customer's expectations, and maintain the highest quality of work.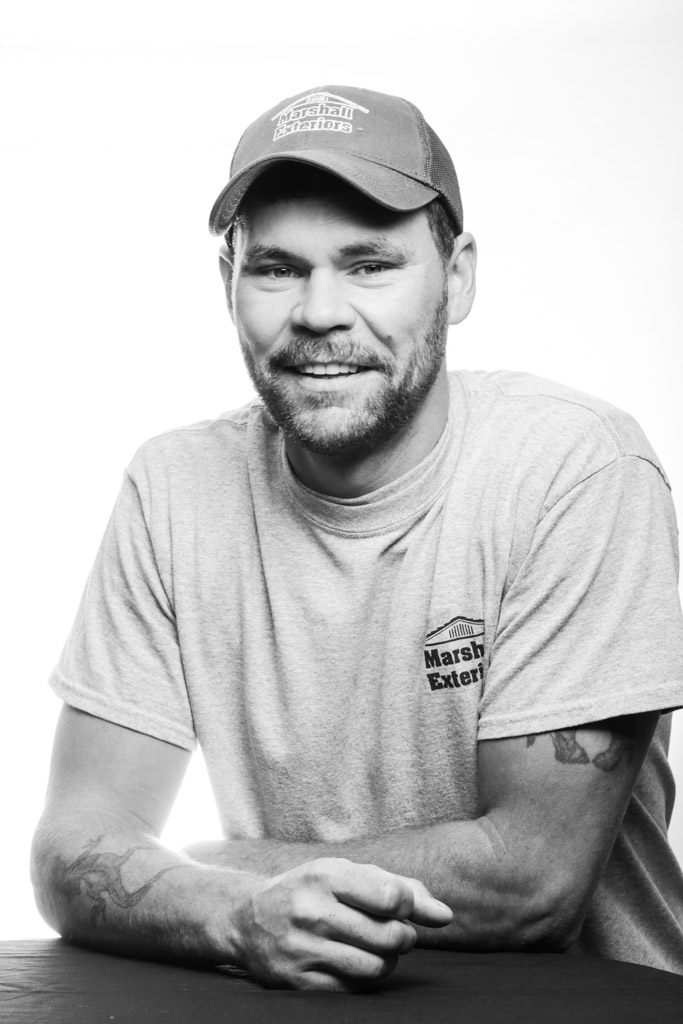 Project Manager
Mike Webster
Read Bio
Mike started at Marshall Exteriors in 2018, but his entire career has been spent in the construction industry. Over the years, Mike has worked in almost all construction areas, including siding, custom woodwork, window and door installation, roofing, decking, etc. Mike obtained his OSHA and Thermatru certifications during this time and has done EpDm training.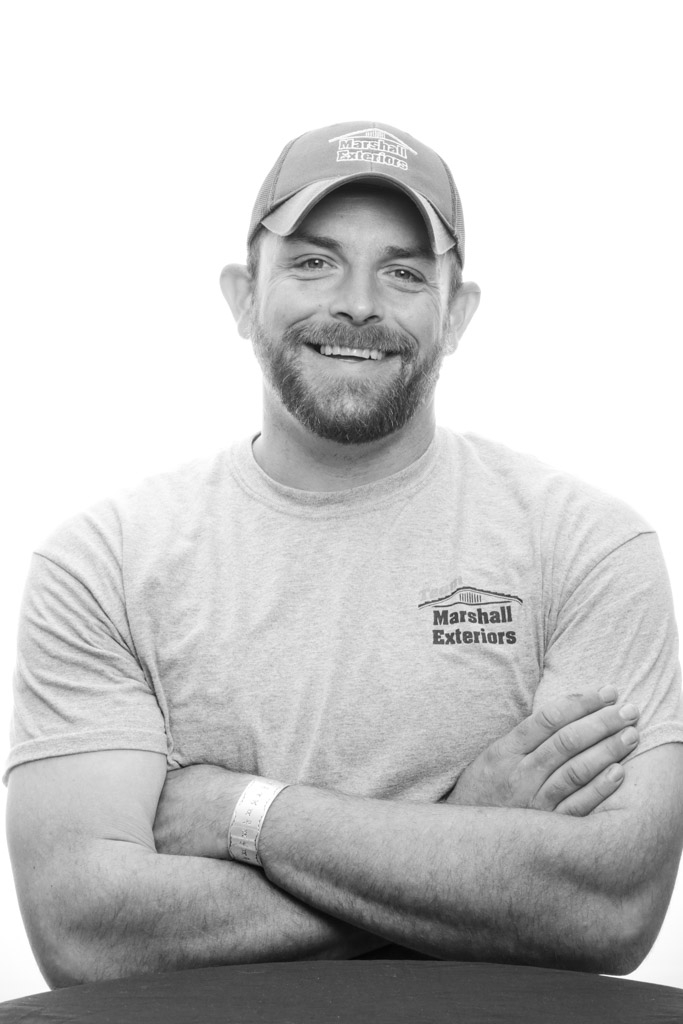 Project Manager
Chad Willardson
Read Bio
Chad was born in Colorado, he moved to New York as a child. Chad has worked in construction his whole life; he even spent time building golf courses and houses. In 2017 he brought that experience to Marshall Exteriors, where he started as a foreman and quickly became a project manager. Chad believes in constant growth and learning; because of that, he has attended numerous trainings and obtained many certifications.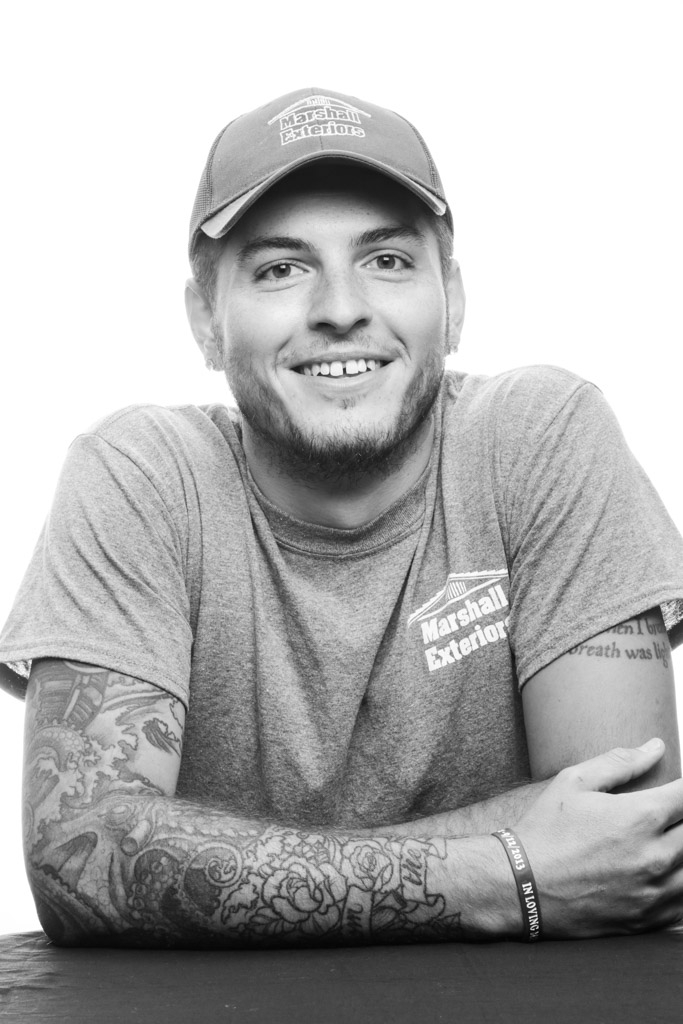 Read Bio
Joe has had an occupation in construction for over ten years. Before coming to Marshall Exteriors in 2017, he worked for three years in commercial construction and two years running heavy equipment for underground utilities. Joe has his heavy equipment certification and is a certified first responder.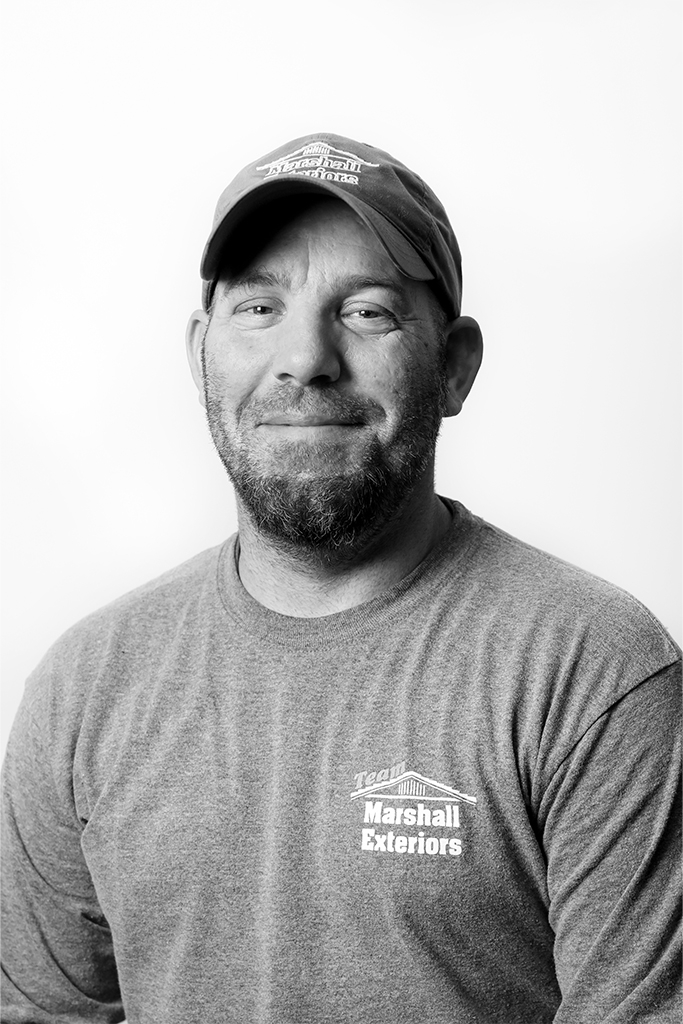 Read Bio
Ernie has spent more than half his life (over twenty-seven years) working in general construction. He began his career with Marshall Exteriors in 2020. Ernie has completed scaffolding, window and door installations, and roofing training.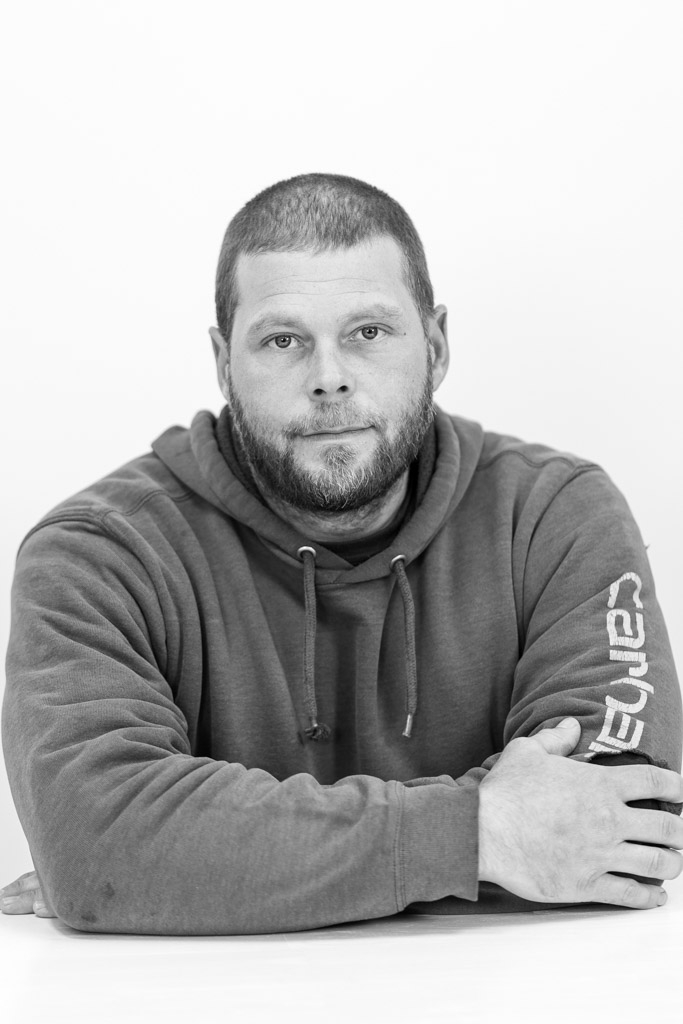 Read Bio
Scott started working in roofing and dedicated fifteen years to specializing in that field. He then decided to switch it up to put in five years of gutter installation, giving him over twenty years of construction background. Scott began working for Marshall Exteriors in 2021, and when the company formed our gutter division (Drip Away Gutters), he was an obvious choice to fulfill the role of foreman.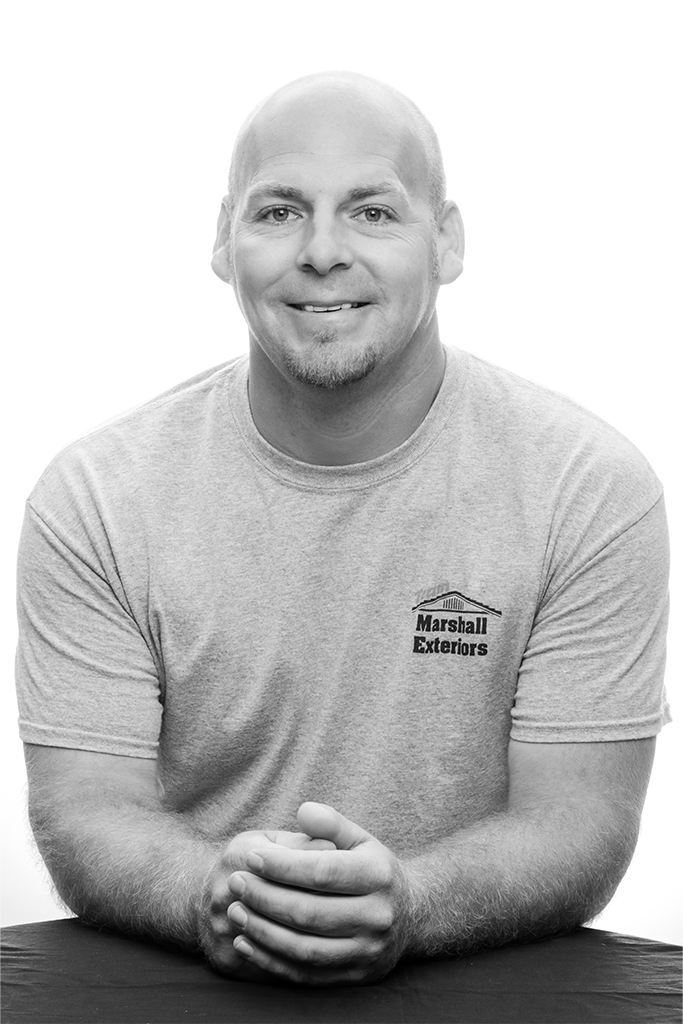 Read Bio
Rick has spent most of his life working in all different forms of construction; for over twenty years, he has mastered his craft. Rick came to Marshall Exteriors in 2018. He has made safety a priority and is OSHA certified.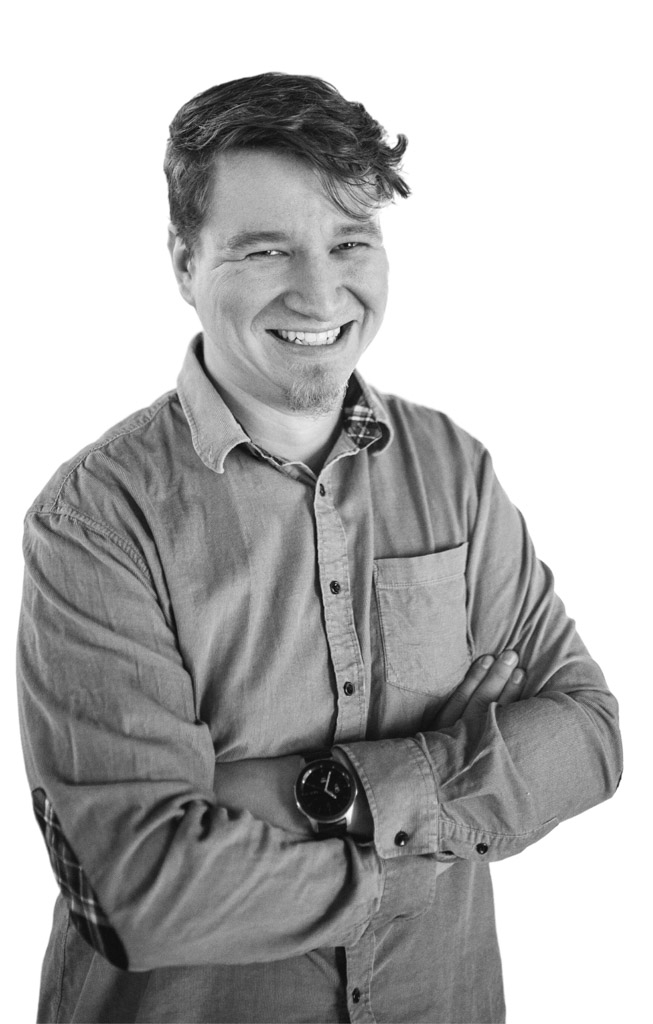 Social Media Content Creator
Daniel Polukhin
Read Bio
Daniel was born in Kursk, Russia. He was fifteen when his family moved to the United States. Over the years, he has called many cities in the US and Europe home. Daniel has his associate degree in digital media and has won a Telly Award for Cinematography. Before joining Marshall Exteriors in 2023, Daniel worked for WCNY (PBS) TV, filming and producing various shows and documentaries. During that time, he volunteered and later worked for TVSEMINARY; there, he was able to direct, film, and produce promotional video content. You can view some of his work on the Marshall Exteriors on Facebook and Instagram.