Transform Your Basement with Our Basement Finishing Products
---
At Marshall Exteriors, we specialize in turning your basement into a functional and inviting living area tailored to your unique needs and preferences. Our experienced professionals work closely with you to design and implement a customized basement finishing solution that enhances your home's value, comfort, and overall appeal.
Our basement finishing services offer numerous benefits, from increasing your home's usable square footage to providing a versatile space for entertainment, work, or relaxation. By utilizing high-quality materials and industry-leading techniques, we ensure a durable, moisture-resistant finished basement that you and your family will enjoy for the years to come.
Create the Ultimate Living Space with Our Expert Basement Finishing Services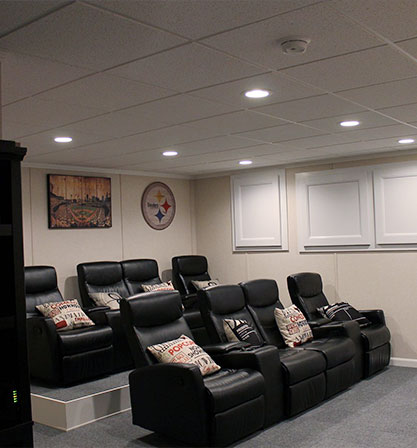 At Marshall Exteriors, we pride ourselves on offering a diverse selection of top-tier basement finishing products designed to transform your basement into a comfortable and attractive living space. Our carefully curated product range includes basement dehumidifiers, ceiling tiles, energy-efficient windows, remodeled flooring, and elegant finishing touches such as column sleeves and crown molding.
View Gallery
Other Services
From new installations to repairs and maintenance, our skilled technicians will ensure your roof remains sturdy and reliable, providing long-lasting defense against the elements.
Discover the perfect blend of functionality and design with Marshall Exteriors' exceptional window and door installation services.
With our energy-efficient designs and top-notch materials, your new sunroom will add value, style, and functionality to your home, creating an inviting space for family gatherings or quiet moments
Basement Finishing Products FAQs
Can your basement finishing services accommodate custom features such as a home gym or a wine cellar?
Absolutely! Our design team at Marshall Exteriors is skilled at incorporating custom features into your basement finishing project. Whether you're looking to create a dedicated home gym, a wine cellar, or any other specialized space, we'll work with you to bring your vision to life and deliver a finished basement tailored to your unique needs and interests.
What type of flooring is best for my finished basement?
Selecting the right flooring for your basement depends on moisture levels, usage, and personal style preferences. Some popular options include luxury vinyl planks, engineered hardwood, and tile. Our expert team can help you choose the best flooring option for your finished basement based on your needs and budget.
Can I finish my basement if I have a history of water issues?
If your basement has experienced water issues, addressing and resolving these problems before proceeding with any finishing work is essential. At Marshall Exteriors, our team can assess your basement's condition and recommend appropriate waterproofing solutions to ensure a dry and healthy environment for your finished space.