Superior Deck, Staircase, & Balcony Railing Solutions in Newark, NY
---
Marshall Exteriors takes pride in providing top-quality railing solutions that ensure safety and add a touch of elegance to your home. Our wide range of railing options, including aluminum, vinyl, and wood, allows you to choose a design that perfectly complements your deck, staircase, or balcony. By choosing our railing services, you invest in durable and visually appealing solutions that elevate your home's overall appeal.
Our expert team is committed to delivering exceptional results using high-quality materials and precision installation techniques. With a focus on customer satisfaction, we ensure that our railings meet your needs, preferences, and safety standards. Experience the perfect blend of functionality and style with our custom railing solutions.
Our Streamlined Railing Installation Process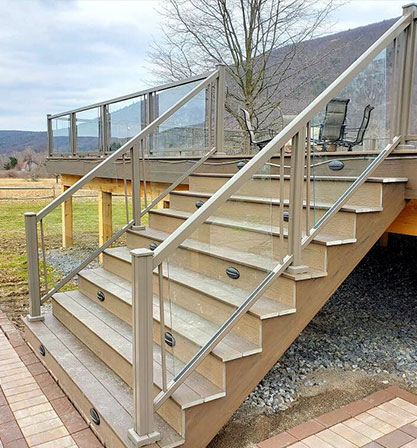 At Marshall Exteriors, our railing installation process begins with a comprehensive consultation to understand your vision, safety requirements, and budget. Our skilled designers present you with various material and design options to help you make an informed decision. Once you approve the design, our experienced installation team initiates the construction phase, adhering to industry standards and safety guidelines.
Throughout the installation process, we maintain open communication, ensuring your satisfaction with the final result. Upon completion, our team conducts a thorough quality check and cleans the site, leaving you with a beautiful and secure addition to your home.
View Gallery
Other Services
Enhance your home's functionality and aesthetic appeal with our beautifully crafted decks, perfect for entertaining, relaxation, and outdoor enjoyment.
Our skilled designers collaborate with you to create a sunroom that seamlessly integrates with your home's architecture, providing ample natural light and year-round enjoyment.
Our wide selection of styles and colors ensures a perfect match for your home's aesthetic, while our expert installation guarantees lasting durability and protection from the elements.
Railing Installation FAQs
Can you match the style of my existing deck or staircase?
Our experienced designers at Marshall Exteriors can create custom railing designs that seamlessly blend with your existing deck, staircase, or balcony. We offer various materials and styles to ensure a cohesive look throughout your home.
Are your railings weather-resistant and low-maintenance?
We use high-quality materials that withstand various weather conditions and require minimal maintenance. The specific maintenance requirements depend on the chosen material, but our team will provide you with tailored maintenance guidelines to ensure the longevity of your railings.
How do I choose the best railing material for my home?
Selecting the ideal railing material depends on your preferences, budget, and maintenance requirements. Aluminum railings offer durability, weather resistance, and low maintenance, while vinyl railings provide a similar level of maintenance ease with various design options. Wood railings offer a classic, natural aesthetic but may require regular maintenance to prevent decay and weather damage. Our design team at Marshall Exteriors will guide you through the pros and cons of each material to help you make the best choice for your home.