Expert Roof Replacement Services in Newark, NY
---
At Marshall Exteriors, we understand that a robust and durable roof is crucial for protecting your home and family. We offer roof replacement services designed to provide the highest-quality materials and craftsmanship, ensuring a long-lasting solution for all your roofing needs. Our experienced professionals are committed to delivering unparalleled customer satisfaction, making the roof replacement process as smooth and hassle-free as possible for homeowners like you.
When you trust Marshall Exteriors with your roof replacement project, you can expect exceptional results that will enhance your home's curb appeal and increase its overall value. We are proud to be the preferred choice for homeowners looking to replace a roof in our community of Newark, NY. Our dedication to excellence has earned us numerous industry accolades and a reputation for reliability. Don't settle for anything less than the best regarding your home's most important line of defense against the elements.
Our Stress-Free Roof Replacement Process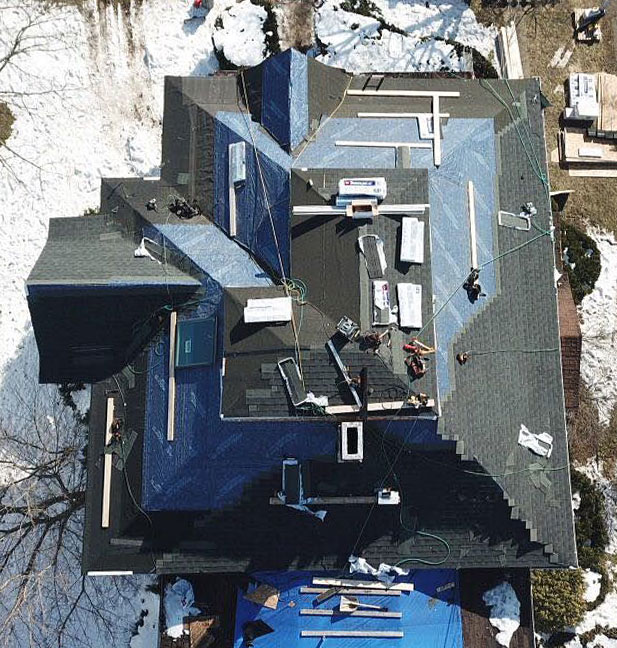 When you choose Marshall Exteriors for your roof replacement, you can rest assured that we'll take care of every detail from start to finish. Our process begins with thoroughly inspecting your existing roof to identify any underlying issues that need to be addressed. Next, our team will work closely with you to select the best roofing materials for your home, considering aesthetics, durability, and energy efficiency. Finally, our expert installers will complete the project to the highest industry standards, ensuring your new roof is beautiful and built to last.
During the entire roof replacement process, our team at Marshall Exteriors is dedicated to keeping you informed and involved. We understand that communication is key to a successful project, so we prioritize addressing any questions or concerns you may have promptly and thoroughly. Our commitment to your satisfaction doesn't end when the job is complete—we stand behind our work with industry-leading warranties and will support you long after your new roof has been installed. Trust in our expertise and experience for a roof replacement that exceeds your expectations.
View Gallery
Other Roofing Services
Our highly skilled and experienced repair team is always on standby, ready to provide immediate assistance and restore your peace of mind.
Regular roof repair and maintenance are essential for prolonging the lifespan of your roof, preventing roof leaks, and avoiding expensive repairs in the future.
Choosing the right type of roofing for your home or business is a critical decision that can significantly impact the building's durability, energy efficiency, and curb appeal.
Roof Replacement FAQs
How long does a roof replacement typically take?
The timeline for a roof replacement can vary depending on factors such as the size of your home, the type of roofing materials used, and weather conditions. However, most roof replacements can be completed within a few days to a week. Our team at Marshall Exteriors will provide you with a clear timeline for your project so you know exactly what to expect.
How do I know if my roof needs to be replaced?
Some signs that your roof may need a replacement include missing or damaged shingles, leaks, sagging, mold, and mildew. Additionally, if your roof is over 20 years old, it's likely nearing the end of its useful life. Our experts at Marshall Exteriors can perform a comprehensive inspection to determine if a roof replacement is necessary for your home.
Will a roof replacement help lower my energy bills?
Yes! A new, energy-efficient roof can help to lower your energy bills by reducing heat loss in the winter and heat gain in the summer. At Marshall Exteriors, we offer a variety of energy-efficient roofing materials to help you save on your energy costs while also improving the comfort of your home.