Exceptional Custom Sunroom Additions in Newark, NY
---
Discover the perfect fusion of indoor comfort and outdoor beauty with our sunroom additions at Marshall Exteriors. Our expertly designed sunrooms provide a bright, inviting space for relaxation and entertainment and increase your home's value and functionality. Crafted with energy-efficient materials and tailored to your unique preferences, our sunrooms offer year-round enjoyment while seamlessly blending with your home's architecture.
Experience the benefits of a sunroom addition, such as increased natural light, expanded living space, and an enhanced outdoor connection. Our sunrooms are designed with your comfort in mind, incorporating features like insulation, ventilation, and high-quality windows to ensure optimal temperature control and energy efficiency.
We are an authorized dealer of Betterliving Sunrooms, Patio Rooms, Screen Rooms, Enclosed Porches, Awnings, Canopies, Solar Shades, Railings, and Decks for homes and businesses.

Our Comprehensive Sunroom Addition Process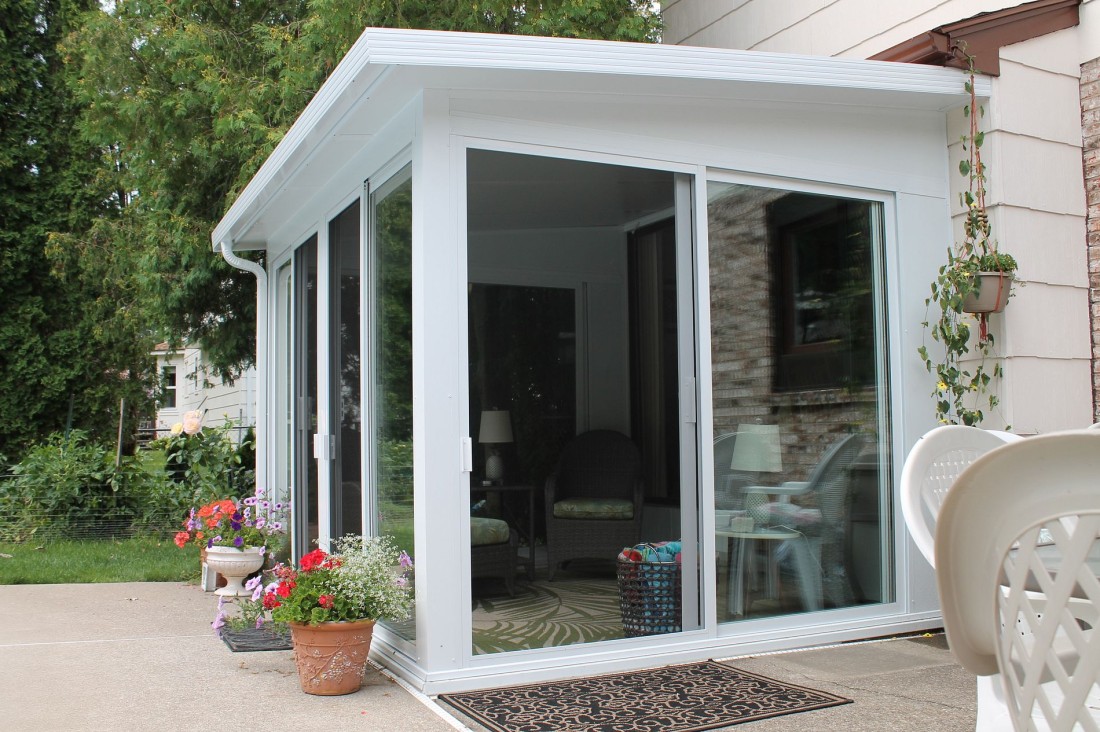 At Marshall Exteriors, our sunroom addition process begins with an in-depth consultation to understand your vision, needs, and budget. Our experienced designers present you with various sunroom styles, materials, and features, ensuring your new addition aligns with your home's aesthetic and personal preferences. Once the design is finalized, our skilled construction team commences the building phase, adhering to industry standards and local building codes.
View Gallery
Other Services
Our skilled team of sunroom addition contractors will work closely with you to design and build the perfect deck that complements your home's architecture and meets your functional needs.
Our experienced team will guide you through choosing the ideal railing system for your deck, stairs, or balcony, offering exceptional installation services and a lasting impression.
We offer a variety of colors, styles, and textures to match your home's design perfectly and desired aesthetic.
Sunroom Addition FAQs
How do I choose the right sunroom style for my home?
Our experienced design team will guide you through selecting the ideal sunroom style that complements your home's architecture and personal preferences. We offer a variety of sunroom styles, including the cathedral, conservatory, and studio designs. During the consultation phase, we will discuss the advantages of each style and help you make an informed decision.
How do I maintain my sunroom addition?
Sunroom maintenance depends on the materials and specific features included in your addition. Generally, sunrooms require minimal maintenance, such as regular cleaning of windows and glass surfaces, checking and maintaining seals, and inspecting the roof for debris or damage. Our Marshall Exteriors team will provide detailed maintenance guidelines tailored to your sunroom, ensuring its longevity and optimal performance.
Can I add custom features to my sunroom addition, such as skylights or built-in seating?
Absolutely! Our design team at Marshall Exteriors is dedicated to creating a sunroom addition tailored to your unique preferences and requirements. During the consultation, we will discuss any custom features you wish to incorporate, such as skylights, built-in seating, or customized lighting options. We'll work closely with you to ensure your sunroom addition meets your vision and exceeds your expectations.