Enhance Your Space with Shades and Awning Installation in Newark, NY
---
Transform your patio, deck, or outdoor space with our premium shades and awnings, designed to elevate your home's aesthetic and functionality. Marshall Exteriors offers many high-quality, stylish, and durable options to suit any taste and budget. Our shades and awnings are designed to protect you from the sun and rain, allowing you to enjoy your outdoor space comfortably all year round.
Investing in our shades and awnings will enhance your outdoor living experience and add value to your home. Our expert team will work with you to create a custom solution that meets your needs and complements your home's exterior design. With various materials, styles, and colors, you can trust Marshall Exteriors to deliver top-notch products and exceptional service.
We are an authorized dealer of Betterliving Sunrooms, Patio Rooms, Screen Rooms, Enclosed Porches, Awnings, Canopies, Solar Shades, Railings, and Decks for homes and businesses.

Experience Outdoor Living at Its Finest with Our Elegant and Practical Shade Solutions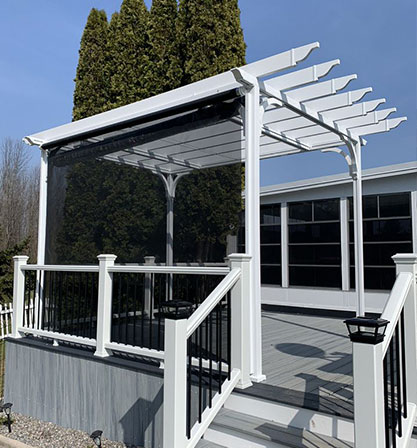 Our process begins with a consultation where our experienced team will discuss your needs, preferences, and budget. We will help you choose the perfect shade or awning solution for your home, ensuring it blends seamlessly with your existing architecture and design. Our team will then provide a detailed design and pricing estimate for your approval.
Once you have approved the design ideas and estimate, our skilled technicians will schedule the installation at a time that is convenient for you. We take pride in our efficient and meticulous installation process, ensuring your shades or awnings are securely installed and function flawlessly.
View Gallery
Other Services
Our experienced team designs and builds stylish and durable decks tailored to your home and outdoor living space ideas.
Our expert designers and builders craft sunrooms that blend seamlessly with your home's architecture while offering a comfortable and inviting space to relax and entertain.
Upgrade your home's curb appeal and protect it from the elements with our high-quality vinyl siding solutions.
Shades and Awnings FAQs
How do I maintain my shades or awnings?
Maintaining your shades or awnings is relatively easy. Regularly cleaning the fabric with mild soap and water will help keep them looking fresh and extend its lifespan. For retractable awnings, ensure the moving parts are lubricated as the manufacturer recommends.
How long do shades and awnings last?
The longevity of your shades or awnings depends on the materials used and the level of care and maintenance they receive. With proper care, high-quality shades and awnings can last anywhere from 10 to 15 years.
Can I choose the color and style of my shades and awnings?
Marshall Exteriors offers various colors, styles, and designs, ensuring your shades or awnings perfectly match your home's aesthetic and personal preferences.