Protect Your Home with Roof Repair & Maintenance Services in Newark, NY
---
Your roof is crucial in safeguarding your home from the elements and ensuring its longevity. At Marshall Exteriors, we provide top-notch roof repair and maintenance services to keep your roof pristine and prevent costly damage. By investing in regular maintenance, you not only extend the lifespan of your roof but also enhance your home's energy efficiency and curb appeal.
Our experienced team of roofing professionals is dedicated to delivering exceptional workmanship and customer satisfaction. We use high-quality materials and environmentally friendly practices to ensure your roof remains structurally sound and visually appealing for the years to come.
Our Streamlined Roof Repair and Maintenance Process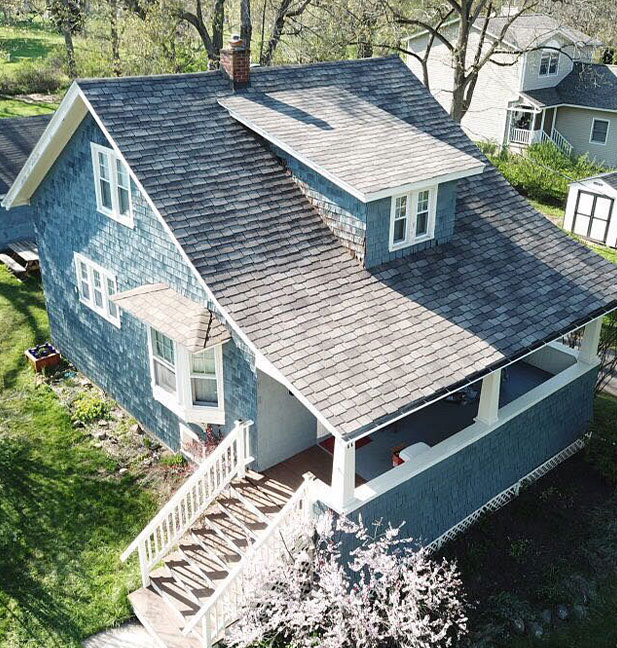 To provide you with the best possible service, we follow a tried-and-tested process that ensures all aspects of your roof are cared for. We begin with a thorough roof inspection to identify any potential issues or damage. Our team will then provide a detailed report and recommend the necessary repairs or maintenance tasks.
Once you approve, our skilled technicians will perform the required roof repair services, including cleaning, repairing damaged shingles or flashing, and replacing worn-out components. Throughout the process, we maintain open communication, keeping you informed and addressing any concerns you may have.
View Gallery
Other Roofing Services
A well-functioning roof is the cornerstone of a safe and comfortable home, and sometimes, repairs are simply not enough to ensure its longevity and performance.
Each material has unique features, benefits, and drawbacks—and our experts are here to guide you through the selection process.
Our expert technicians will assess your home's ventilation needs and install ridge vents to optimize airflow, regulate indoor temperature, and prevent moisture buildup.
Roof Repair and Maintenance FAQs
How often should I schedule roof maintenance?
We recommend scheduling roof maintenance at least once a year, preferably in the spring or fall. Regular maintenance ensures the optimal performance and longevity of your roof. By choosing Marshall Exteriors, you benefit from our team of experienced professionals who are dedicated to providing exceptional workmanship and customer satisfaction. Our comprehensive approach to roof maintenance ensures your home remains protected from the elements and looks its best.
Can you work with all types of roofing materials?
Yes, our team at Marshall Exteriors is experienced in working with various roofing materials, including asphalt, metal, corrugated, and solar. Our expertise in handling different materials ensures that we can provide expert repair and maintenance services for any type of roof. We stay up-to-date with industry trends and advancements in roofing technology, allowing us to recommend and implement the best solutions for your specific needs. This versatility sets us apart from other companies and ensures that you receive top-quality service, regardless of roofing material.
Will your team help me with insurance claims for roof damage?
We understand that dealing with insurance claims can be challenging and time-consuming. Our team at Marshall Exteriors is here to assist you throughout the process, providing any necessary documentation, such as damage assessments and repair estimates, to help you receive the coverage you deserve. By offering this assistance, we aim to make the entire roof repair or maintenance experience as stress-free as possible for our clients. Our expertise in dealing with insurance companies ensures that you can focus on what matters most—the safety and well-being of your family – while we handle the complexities of the claims process.