Transform Your Basement with Marshall Exteriors' Basement Design Ideas
---
Are you ready to unlock your home's full potential? At Marshall Exteriors, we specialize in turning unused basements into stunning, functional living areas that cater to your unique needs and preferences. Our professional designers and craftsmen work closely with you to create a customized space that enhances your home's value and improves your quality of life.
Discover the countless benefits of our basement finishing services, from increased living space to a more energy-efficient home. Whether you envision a cozy entertainment room, a stylish home office, or a luxurious guest suite, our innovative design ideas and impeccable attention to detail will bring your dream space to life.
Seamless and Stress-Free Process from Start to Finish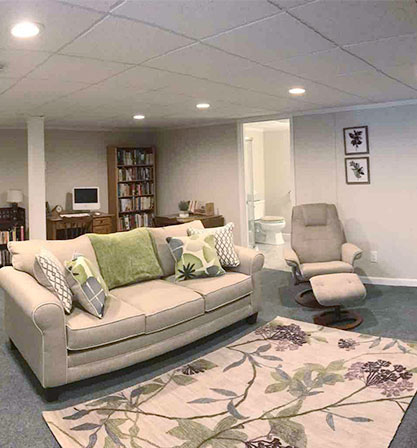 We understand that embarking on a basement renovation project can seem daunting. That's why our team at Marshall Exteriors is dedicated to providing a smooth and hassle-free experience every step of the way. We'll keep you informed and engaged throughout the process, from the initial consultation to the final touches. Our systematic approach ensures that your project is completed on time, within budget, and with the highest quality craftsmanship.
Our experts work closely with you during the design phase to understand your needs, preferences, and personal style. We'll then develop a detailed plan with 3D renderings to help you visualize your new space and make any necessary adjustments. Our skilled craftsmen will execute the plan with precision and care, ensuring every detail is perfect upon your approval.
View Gallery
Other Services
From new installations to repairs and maintenance, our skilled technicians will ensure your roof remains sturdy and reliable, providing long-lasting defense against the elements.
Discover the perfect blend of functionality and design with Marshall Exteriors' exceptional window and door installation services.
With our energy-efficient designs and top-notch materials, your new sunroom will add value, style, and functionality to your home, creating an inviting space for family gatherings or quiet moments
Basement Design Idea FAQs
Will finishing my basement increase the value of my home?
Finishing your basement can significantly increase the value of your home. A well-designed and expertly executed basement finishing project can offer a substantial return on investment when it comes time to sell your home. Potential buyers are often attracted to homes with versatile, finished basements that provide additional space for various purposes, such as entertainment, work, or guest accommodations.
Do I need to obtain permits for my basement finishing project?
Permit requirements can vary depending on your location and project scope. Our team at Marshall Exteriors will assist you in determining whether permits are necessary and help you navigate the permitting process to ensure your basement remodel project complies with all local regulations and guidelines.
How can I maximize the natural light in my finished basement?
Our design experts at Marshall Exteriors will assess your basement's layout and suggest strategic ways to maximize natural light, such as enlarging or adding windows, incorporating light wells, or installing egress windows. Additionally, we can recommend lighting solutions and color schemes that create a bright and inviting atmosphere in your finished basement.