Ridge Vent and Roof Ventilation Installation in Newark, NY
---
Proper roof ventilation is crucial for maintaining a comfortable, energy-efficient, and healthy living environment in your home. We specialize in ridge vents and roof ventilation services at Marshall Exteriors, ensuring your home benefits from optimal airflow and moisture control. Our expert team will assess your home's ventilation requirements, recommend the ideal solution, and professionally install ridge vents to keep your home protected and comfortable year-round.
Investing in ridge vents and roof ventilation offers numerous advantages, including regulating indoor temperature, reducing energy costs, and preventing moisture-related issues such as mold, mildew, and wood rot. With our high-quality services, Marshall Exteriors helps you maintain a safe, healthy, and comfortable living space while prolonging the life of your roof.
Unrivaled Expertise in Custom Roofing Solutions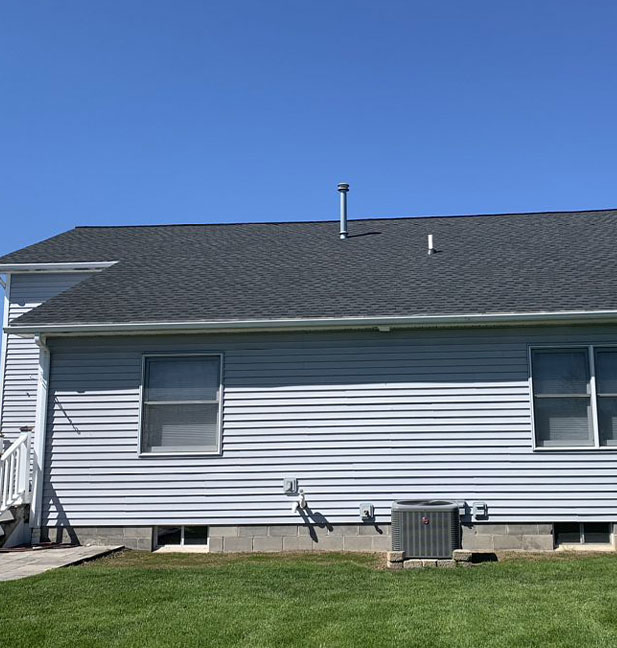 Our process for ridge vents and roof ventilation services at Marshall Exteriors is designed with your satisfaction and convenience in mind. We begin with a thorough assessment of your home's current ventilation system and identify potential issues or improvement areas. Our experienced team will recommend the most effective and efficient ridge vent solution, considering your home's architecture, climate, and budget.
Once we have determined the ideal ventilation solution, our skilled technicians will proceed with the installation, ensuring that your ridge vents are appropriately placed and integrated with your existing roofing system. Our commitment to quality and attention to detail guarantees that your new roof ventilation will provide lasting benefits, ensuring the health and durability of your home.
View Gallery
Other Roofing Services
Our seasoned team will assist you in choosing the perfect roofing material, carefully remove your old roof, and skillfully install a new, long-lasting, visually appealing roofing system designed to endure for years.
From fixing leaks and replacing damaged shingles to conducting routine inspections and cleanings, our proficient technicians will keep your roof sturdy and dependable, shielding your home from the elements.
Find the perfect roofing solution for your home with our wide variety of types of roofing materials, including Asphalt, Metal, Corrugated, and Solar.
Ridge Vents and Roof Ventilation FAQs
How do I know if my home needs ridge vents or improved roof ventilation?
Some common signs that your home may need ridge vents or improved roof ventilation include uneven indoor temperatures, excessive humidity, condensation on windows, and persistent mold or mildew. Our team at Marshall Exteriors can perform a comprehensive assessment to determine your home's ventilation needs and recommend the appropriate solution.
How long does the installation process take for ridge vents and roof ventilation?
The installation process for ridge vents and roof ventilation can vary depending on the size of your home and the project's complexity. Generally, our skilled technicians at Marshall Exteriors can complete the installation within 1-2 days, minimizing disruption to your daily routine.
Will ridge vents and roof ventilation affect the appearance of my home?
We prioritize functionality and aesthetics at Marshall Exteriors when installing ridge vents and roof ventilation systems. Our team will carefully consider the design and appearance of your home, ensuring that the ventilation solution blends seamlessly with your existing roof and enhances its overall appearance.