Transform Your Home with Premium Siding Installation in Newark, NY
---
At Marshall Exteriors, we understand the importance of a home's exterior in terms of curb appeal and protection from the elements. Our siding services cater to homeowners looking for a reliable solution to enhance their property's appearance and increase its value. With a wide range of materials, colors, and styles available, we work closely with you to find the perfect siding option that complements your home's design and meets your specific needs.
Our expertly installed siding not only adds beauty to your home but also offers numerous benefits, such as improved energy efficiency, reduced maintenance, and increased durability. By choosing Marshall Exteriors for your siding project, you're investing in a long-lasting and visually appealing exterior that will serve you well for years.
Our Complete Siding Installation Process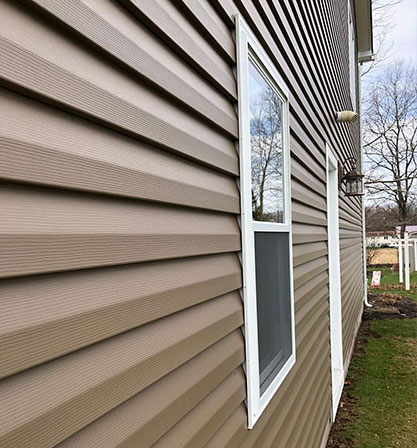 At Marshall Exteriors, we pride ourselves on offering a streamlined, customer-focused siding installation process. We begin with an in-depth consultation, where our team assesses your home's current exterior and discusses your specific preferences and requirements. We'll explore various siding options using our 3D visualizing tool, HOVER, which helps us select your project's ideal materials, colors, and styles.
Our skilled installation team then takes over, working efficiently and meticulously to ensure your new siding is installed to the highest standards. We prioritize communication throughout the project, keeping you informed and addressing any concerns you may have. At the end of the process, you'll be left with a stunning, high-performance exterior that you can be proud of.
View Gallery
Other Services
Our expert team uses high-quality materials to create stunning, durable, low-maintenance outdoor spaces perfect for entertaining or relaxing.
With our energy-efficient designs and top-notch materials, your new sunroom will add value, style, and functionality to your home, creating an inviting space for family gatherings or quiet moments.
Our expert installation ensures a secure and visually appealing solution for your decks, staircases, and balconies.
Siding FAQs
How do I know when to replace my home's siding?
Some common signs that your home's siding may need a replacement include excessive fading, cracked or loose panels, noticeable warping, or increased energy bills due to poor insulation. Additionally, if you are constantly maintaining or repairing your current siding, investing in new, durable siding might be more cost-effective. Our team at Marshall Exteriors can assess your home's exterior during the consultation and recommend whether a complete replacement or repairs are necessary.
Can new siding improve my home's energy efficiency?
Yes, new siding can significantly improve your home's energy efficiency. High-quality materials, such as insulated vinyl siding, can help reduce heat transfer between your home's interior and exterior, keeping your home cooler in the summer and warmer in the winter. This results in lower energy consumption and reduced heating and cooling costs.
How do I choose the right siding color and style for my home?
Choosing the right siding color and style is essential for creating a visually appealing exterior that complements your home's architecture. Consider your home's size, existing color palette, and the neighborhood's overall aesthetic. Our experienced team at Marshall Exteriors can help you navigate the selection process, offering expert advice and recommendations based on your home's specific characteristics and personal preferences. We can also provide examples of our previous work to understand better how different siding options will look on your home.