Emergency Roof Repair in Newark, NY
---
When faced with a roofing emergency, prompt and professional assistance is crucial in minimizing damage to your home. At Marshall Exteriors, our team of skilled technicians is ready to provide the urgent care your roof needs, whether due to storm damage, leaks, or other unexpected issues. Our emergency roof repair service is designed to quickly address these problems, protecting your home and preventing further costly damage.
By choosing Marshall Exteriors for your emergency roof repair, you can trust that our experienced team will work diligently to identify the issue, provide a temporary solution, and develop a long-term plan to ensure your roof's integrity. We understand that emergencies can be stressful, so our team is committed to offering fast, reliable, and compassionate service to help you through this challenging time.
Our Efficient Process for Emergency Roof Repair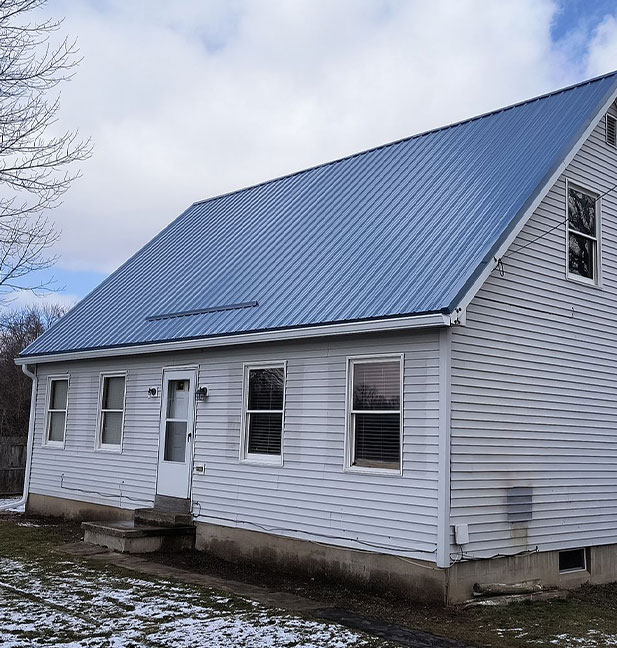 When you contact Marshall Exteriors for emergency roof repair, our process is designed to minimize stress and maximize efficiency. Our team will first thoroughly assess the damage and determine the most effective temporary solution to protect your home from further harm. This may include installing tarps, sealing leaks, or securing loose materials.
Once we've stabilized the situation, we'll work with you to develop a comprehensive repair plan. This includes a detailed estimate of the costs and timeline for a permanent solution. Our experienced technicians will perform the necessary repairs, adhering to industry best practices and using high-quality materials to ensure a lasting and dependable result. Throughout the process, we maintain open communication and address any questions or concerns you may have.
View Gallery
Other Roofing Services
Our experienced team will help you select the perfect roofing material, remove your old roof, and expertly install a new, durable, attractive roofing system designed to last years.
From fixing leaks and replacing damaged shingles to performing regular inspections and cleaning, our skilled technicians will ensure your roof remains strong and reliable, safeguarding your home against the elements.
Our knowledgeable team will guide you through the selection process, helping you choose the type of roofing that best suits your style, budget, and functional requirements.
Emergency Roof Repair FAQs
How quickly can Marshall Exteriors respond to a roofing emergency?
We understand the importance of addressing roofing emergencies as quickly as possible at Marshall Exteriors. Our team is available 24/7 to respond to your call and provide immediate assistance. We strive to arrive at your location promptly to assess the damage and implement a temporary solution to protect your home.
Will my insurance cover the emergency roof repair?
Insurance coverage for emergency roof repairs can vary depending on your policy and the cause of the damage. We recommend contacting your insurance provider to determine the specifics of your coverage. Our team at Marshall Exteriors can provide detailed documentation of the damage and repairs for your insurance claim.
Can you handle all types of roofing materials during an emergency repair?
Yes, our skilled technicians at Marshall Exteriors are experienced in handling a wide range of roofing materials, including Asphalt, Metal, Corrugated, and Solar. We have the necessary tools and expertise to address emergency issues for various roofing types, ensuring that your home receives the care it needs.