Professional Deck Design, Build, & Installation in Newark, NY
---
At Marshall Exteriors, we specialize in crafting exquisite decks that elevate the beauty and functionality of your outdoor living space. Our expert team works closely with you to create tailor-made deck designs that suit your needs, preferences, and budget. By choosing our deck services, you enhance your home's aesthetic appeal and increase its overall value.
Our decks are built using high-quality materials that ensure longevity, strength, and low maintenance. We offer various options, from traditional wood to modern composite materials, to suit your style and requirements. With our attention to detail and commitment to excellence, your new deck will become the perfect backdrop for memorable outdoor gatherings and relaxation.
Our Hassle-Free Deck Installation Process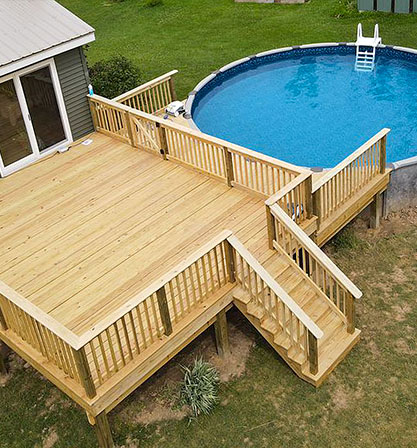 Our deck installation process begins with an in-depth consultation where we discuss your vision, preferences, and budget. Our skilled designers create a custom plan for your new deck, presenting various material and style options. Once you approve the design, our experienced installation team commences the construction phase, adhering to the highest industry standards and building codes.
Throughout the installation process, we maintain open lines of communication, ensuring your complete satisfaction with the final result. Upon completion, our team conducts a thorough quality check and cleans the site, leaving you with a stunning outdoor space ready for enjoyment.
View Gallery
Other Services
We offer a wide range of railing materials and designs, including aluminum, vinyl, and wood, to perfectly complement your deck or staircase.
Our skilled designers work closely with you to create the perfect sunroom that blends seamlessly with your home's architecture while providing ample natural light and comfort.
Whether you're looking to provide shade over your patio, deck, or windows, our wide selection of retractable and stationary awnings ensures the perfect solution for your needs.
Deck Installation FAQs
What type of materials do you offer for decks?
At Marshall Exteriors, we offer a variety of decking materials, including traditional wood, composite, and vinyl. Our team will help you choose the material that best meets your style, maintenance preferences, and budget.
Do I need a permit for my deck installation?
Permit requirements vary depending on local regulations and the scope of your deck project. Our team at Marshall Exteriors will handle the permitting process on your behalf, ensuring your deck installation complies with all necessary codes and regulations.
Can you build a deck around my pool or hot tub?
Absolutely! Our skilled designers at Marshall Exteriors can create custom deck designs that seamlessly integrate with your pool, hot tub, or other outdoor features. We ensure the design meets safety standards and provides easy access to all areas of your outdoor living space.