Marshall Exteriors, Associated Materials
Award of Excellence 2018
CUYAHOGA FALLS, OH (April 30, 2018)-Associated Materials, a leading North American manufacturer and wholesale distributor of residential and light commercial exterior building products, is proud to present Marshall Exteriors with special recognition as the recipient of their Award of Excellence.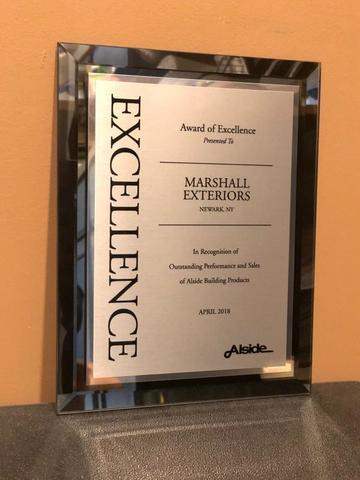 The Award of Excellence is granted to companies who demonstrate an exceptional level of expertise, excellence and professionalism in their use of Associated Materials' building products.
Alside would like to also like to recognize Marshall Exteriors on the acquisition of their new Headquarters in Downtown Newark, NY. Alside is very excited to be a part of the new facility, which will include a "virtual reality" program - designed for homeowners to have the ability to make product and color selections for their upcoming projects.
Marshall Exteriors promotes that: "We will treat your home as if it were our own!" This message, along with 100% company employees on their jobsites -no subcontractors - raises the bar for the rest of the industry in their market. Alside is proud to partner with a company like Marshall Exteriors.
About Associated Materials, UC
Associated Materials, LLC is a U.S. and Canadian manufacturer and distributor of residential and light commercial exterior building products meeting the needs of homeowners, contractors, remodelers,
builders, architects and property investors. Manufactured at 11 facilities, the comprehensive product portfolio includes: vinyl windows and patio doors; vinyl siding, soffet and accessories; aluminum trim
coil; aluminum and steel siding and accessories; vinyl railing and fencing. The company's six core brands - Alside, Gentek, Revere, Alpine, Preservation and UltraGuard - are distributed to contractors,
remodelers and builders through a dual-distribution network. Associated Materials owns and operates over 120 Supply Center wholesale locations in the U.S. (Alside) and Canada (Gentek), and also partners with over 400 independent distributors and direct dealers. In addition to company-manufactured products, Supply Centers distribute complementary building materials, including roofing, insulation, rainware, exterior doors, shakes, stone, decking, professional tools and supplies, and more. To learn more visit www.associatedmaterials.com.