Pumpkin Spice and Everything Nice About FALL!
PART 2: Guide to a Spooktacular October
October can be thrilling with Halloween approaching. There are playful decorations, choosing a costume, party planning, pumpkin carving, the tricks, and the treats. Find inspiration for a killer Haunted House, costume and Jack-o'-Lantern by checking out the local Halloween events in the area. Gather up all your little pumpkins (kids), witches (friends) and goblins (significant other) to begin new traditions.
When I was young we would travel to my grandparents and visit the "Iron Kettle Farm". It became a tradition visiting the farm, carving pumpkins and playing Halloween Party games with my family. The farm had a hayride, a not so haunted "Haunted House", petting zoo, and the stroll of Scarecrow characters (a.k.a. hay stuffed clothing with painted pumpkin heads) …. pretty impressive to a 5-year-old. The Pumpkin Farm of today has evolved into a Fall lovers paradise with more attractions and activities.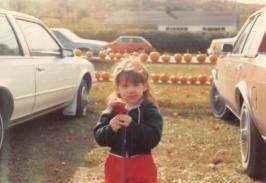 Fall on the Farm has become a one-stop shop. You can find haunted hayrides, jumping pillows, pumpkin cannons, zip-lines, games, rides, an "amazing maize maze" designed with a puzzle challenge, crafts, and tasty treats. But don't stop there, take in the BOO-tiful fall scenery by visiting a new festival or event that will stimulate the thrills and chills of Halloween.
What's the key to a great November blog? TurKEY!
Events to Check Out this October:
Bristol Mountain Fall Sky Rides (Sept. 22-Oct. 28th)
Ontario County Great Pumpkin Walk (Oct. 20th 6:30-9pm)
Haunted Hayrides of Greater Rochester (Sept. 28-Oct. 28th)
Seneca ZooBoo (weekends from Oct.13-Oct. 28th 10am-3pm)
Sonnenberg Gardens & Mansion Canandaigua, NY
Haunted Garden Stroll (Oct. 28th 6-9: 30 pm)
Strong Museum Halloween Hocus Pocus (Oct. 27-28th)
Genesee Country Village & Museum
Spirits of the Past (Adults) – Oct. 17-20th
Trick or Treat (Kids) – Oct. 26-27th
Palmyra Macedon Haunted School (Oct. 26-27th)
Highly Recommend: Hershey Park in the Dark – Trick or Treating, Thrilling 13 and Creatures of the Night (Oct. 19-21, Oct. 26-28th and Nov. 2-4th)
My Top Picks for Apple & Pumpkin Farms:
Beak & Skiff & 1911 (Layfette, NY)
Longacre Farms (Macedon, NY)
Powers Farm Market (Pittsford, NY)
Stokoe Farm (Scottsville, NY)