Pumpkin Spice and Everything Nice About FALL!
Part 3: Thanksgiving Made Easy!
The idea of hosting Thanksgiving can be overwhelming, but it doesn't have to be stressful. Thanks to a few tricks, a little planning, and a gameday strategy, you'll be able to keep your cool on the big day and maybe catch some of the parades.
Here are some tips I've used myself to making your Thanksgiving easy:
3 Weeks Out - Guest List
Send out invitations the first weekend in November. When your guests RSVP with "can I bring anything?" Say YES! Take the help where you can get it, assign an appetizer, dessert or beverage to each guest. Once you have established a rough number of guests and what they are bringing, you can begin to craft the menu. Keep it simple, a traditional Thanksgiving meal of Turkey, stuffing, vegetables, potatoes, and pie is perfect. No need to test out new recipes, stick with what you know.
2 Weeks Out - Thanksgiving Day Checklist
Create a list of all the items you will need on the big day. Separate the list into household items and menu items. From there you will be able to create a grocery list of what is needed. The other advantage to checking everything early, you won't be going crazy trying to find the turkey serving platter (guilty) during the craziness of Thanksgiving morning.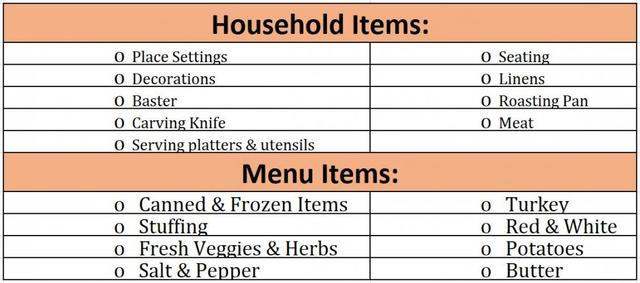 1 Week Out – Set-up for the Big Day
This is the time you want to start preparing for your guests. Getting the house clean, organized and decorated. Free up refrigerator space by having a couple coolers ready, they work great to keep food warm or drinks cold.
Then comes the dreaded task of grocery shopping. Buy all your non-perishable items. This is the time to bring home the star of the show, the -TURKEY (especially if it is frozen)!-. A frozen turkey needs to thaw in the fridge for several days before its big debut.
Saturday/Sunday Before – Review
Take this time to review your recipes and create a cooking schedule based off cooking times. Keep in mind that your turkey needs to come to room temperature before it goes in the oven. The turkey should rest for at least 20 minutes after cooking to allow for the juices to be redistributed. Use the rest time to bake off your casseroles or roast veggies.
Monday Before
Begin defrosting your turkey. Depending on the size of your frozen turkey, you might need to start defrosting it on Monday. The rule of thumb is 24 hours for every 4 pounds. While your turkey is chilling out in the fridge, take a trip to the store for perishable items and any items you've discovered have been forgotten. A Monday night should be less busy than the weekend or Thanksgiving eve.
Tuesday Before
Begin prepping any menu items that can be made ahead. This is a great time to chop your vegetables. Throw them in bags and save yourself some time on Thursday.
Thanksgiving Eve
Chill your beverages; wine, soda, Fall Sangria (you're going to need this while cooking).
THANKSGIVING DAY
Welcome your guests with appetizers, drinks and prepare your feast!