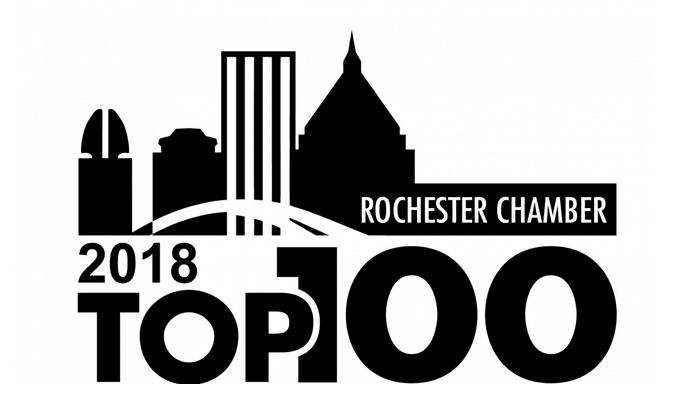 Newark, NY, November 1, 2018—Marshall Exteriors, an Upstate New York leader in exterior home remodeling services, announced today that the company has been recognized as a Rochester Top 100 company.
"As a proud company founded in Newark and serving the Rochester region, we are thrilled to be recognized as a Rochester Top 100 company.", said Adam Olschewske. "The Rochester Top 100 Program was created as a tribute to the area's innovation and entrepreneurial character, and Marshall Exteriors epitomizes that spirit. Since our founding over 18 years ago, our focus has been on providing homeowners with the best service, quality products and exceptional experiences during what would typically be a stressful home improvement project — and that's ultimately what drives our continued growth.".
This is the first year that Marshall Exteriors has joined the rankings of the Rochester Top 100 and finding their spot as number 37 on the list was truly encouraging for the whole team. Adam attended the 2018 Rochester Chamber Top 100 VIP reception on Nov. 1, 2018, and upon learning the companies ranking shared this heartfelt message with his team; "For those of you who don't know, number 37 is very important in my life. My grandfather played in the NFL and his number was 37. Every person who has played a sport since that time in my family has worn the number 37. Thank you all for your commitment to our company and for giving me another reason to keep #37 close to my heart.". One of Adam's core beliefs is that hard work and commitment to his team and the community will provide an abundance of blessings. He cites this appointment to the Top 100 list as one of those many blessings.
The Rochester Top 100 is a program of the Rochester Chamber and KPMG honoring the fastest growing companies in Upstate New York. Since 1988, they have ranked the area's privately held companies based on dollar and percentage revenue increases over the prior three fiscal years.
About Marshall Exteriors
Marshall Exteriors has been providing quality exterior home improvement services to The Greater Finger Lakes Area customers since 2000. We have the resources and expertise to successfully complete any size project. As the 2017 BBB Torch Award for Ethics winner we are the trusted choice for roof replacement and maintenance, window and door replacements, vinyl siding installation, basement finishing, sunrooms and shade products in New York.
As a GAF Master Elite™ Roofing Contractor and the very first Marvin Authorized Replacement Contractor in the nation and Total Basement Finishing Contractor, you can rest assured that you are getting quality products and services, delivered by a reputable professional company. For more information about Marshall Exteriors, visit MarshallExteriorsNY.com.
Contact information:
Christine Natale
Director of Marketing, Marshall Exteriors