It's April, and you know what that means…. time for Spring cleaning! Time to sort out closets, clear out junk drawers, purge the garages and basements too. What to do with all that stuff?
The usual options are to donate, sell or dispose. What if, instead we give new life to these forgot items? Turn our trash into treasure!
All you will need is a glue gun, some paint, small tools and Pinterest.
(A glass of wine will help get the creative juices flowing)

The contents of the junk drawer can vary. I mean, really, who knows what you will find?! Maybe an old cassette tape, random keys, paperclips, deck of cards or less than a deck of cards and all those "extra" pieces to that DIY furniture you save "just in case". All of it can be turned into priceless pieces of art.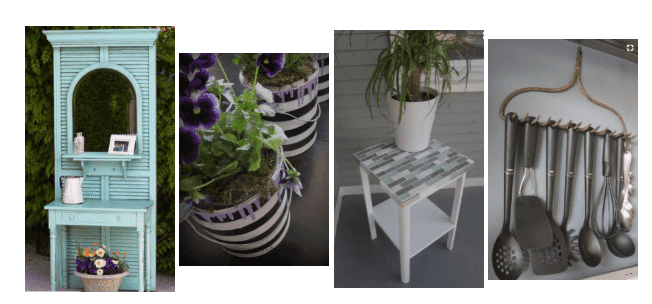 For the black hole aka, the basement or garage- your treasures will be on a larger scale and well weathered (covered in dirt & cobwebs…gross). Time to get down to business. Clean, construct and paint those forgotten items. Make them pretty and useful again in a new way. Old shutters, tables, paint cans, rake, bike tires and left-over tile are just a few upcycle ideas.

Random closet finds; belts, buttons, books, old luggage and knitting loom can be repurposed for function or art. Have kids? Turn old luggage into storage. Buttons and books can even become art. Have your grandmother's knitting basket you will never use, turn it into art. Find a bunch of belts in your closet, repair a chair or stool.